Originally posted on www.bjjheroes.com/editorial/bjj-study-proves-effectiveness-against-stress
For years jiu jitsu enthusiasts believed that practising this martial art/sport benefited not only the body, but also the mind and its ability to cope with day to day stress. To our knowledge, up until today no scientific studies had been made on the subject which is why this research here presented is of such great value to us – BJJ practitioners, and to the combat sports community as a whole.
The research was collected by Özdemir Kızılkan a purple belt under Ertan Balaban (Atos JJ) and a sports graduate at Haliç Üniversitesi (Halic University) in Turkey. Özdemir used the data for his final project at this institution where the study and its findings earned him a perfect score of 100 points, the highest grade one can achieve at Halic.
The thesis was carried out in Istanbul during the first 6 months of 2017 and focused on perceived stress levels between Brazilian jiu jitsu practitioners and the sedentary individuals who are not actively engaged in sports. A total of 30 athletes and 30 sedans, 40 male and 20 female, participated in the study. A Personal Information Form was used to collect information from the participants and a Perceived Stress Scale was used to measure stress levels according to verified methods by Bilge, Öğce, Genç and Oran (2007) – no items were extracted from the scale.
The analysis of the data was interpreted by a psychologist and was done with computer support, while the
answers given were graphically plotted. As a result of the research; It was observed that Brazilian Jiu Jitsu athletes were more able to cope with stress than sedans and less affected by the stress of daily life.
With this final dissertation Özdemir Kızılkan graduated from University, in the process becoming (to our knowledge) world's first thesis about BJJ's positive influence in the battle against stress, while also being the very first scientific research about BJJ in Turkey. Below are the general findings in the thesis, for a more detailed explanation to the approach and the results shown on the graph – please download the PDF file here (translated from Turkish).
COMPARISON AND INVESTIGATION OF ABILITY TO COPE WITH STRESS BETWEEN BRAZILIAN JIU  JITSU PRACTITIONERS AND SEDENTARY PEOPLE – A Study By Özdemir Kızılkan:
The scores presented below were taken as an average score per group, for each of the questions presented to all participants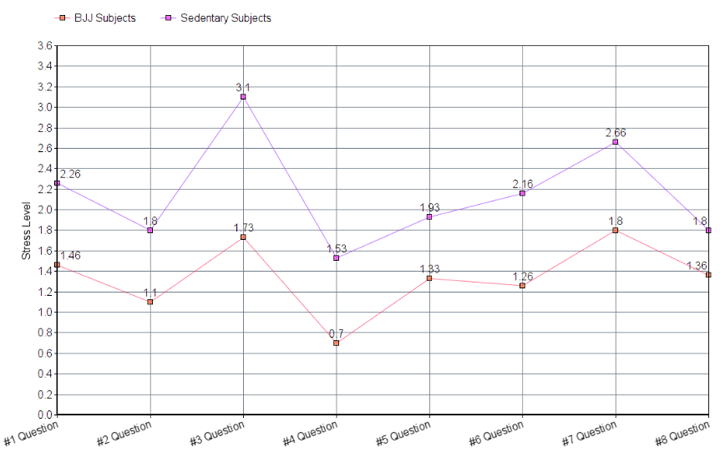 1. How often haven you been upset because of something that happened unexpectedly?
2. How often have you felt that you were unable to control the important things in you life?
3. How often have you felt nervous or stressed?
4. How often have you felt confident about you abilty to handle your personal problems?
5. How often have you felt that things were going your way?
6. How often have you been able to control irritations in your life?
7. How often have you been angered because of the things that were outside of your control?
8. How often have you felt difficulties were pilling up so high that you could not overcome them?